Bulk Tank Truck Carriers – R. O. Harrell Co.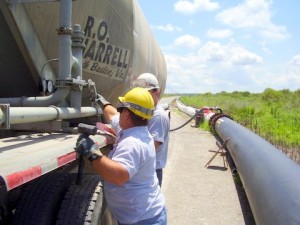 R. O. Harrell Company specializes in providing personalized, dependable tank truck hauling services to manufacturers, distributers, and industrial consumers of liquid or dry bulk commodities – and we've been in business for more than 100 years (learn about our history). Our ability and willingness to dedicate tank truck assets to your transportation needs gives you comfort that the goods will get delivered on time. Your productivity improves and your customers are satisfied.
We deliver to virtually any location in the continental US and Canada.  Although, due to the nature and weight of some of the products shipped in our tank trailers, the majority of our loads are within about 500 miles from southern VA.
Products & Materials Transported by Our Tank Truck Fleet
| Liquids | Resin | Gasoline | Fuel Oil |
| --- | --- | --- | --- |
| Waste Water | Plastic Pellets | Lime | Salt |
| Fly Ash | Cement | Other Dry Materials | Other Chemicals |
Fleet of Tank Trailers
Our customers have access to a large fleet of dry bulk, pneumatic and liquid tank trailers that can be placed at the right location to serve your customer.
85 tractors, most of which have sleepers
Over 200 tank trailers make up our fleet – and all of this equipment is company owned. Our tank vehicles include

aluminum small and large cube dry bulk
vacuum dry bulk
steel dry bulk for hot materials
stainless steel insulated liquid trailers that can transport hazardous materials
aluminum insulated for residual fuel oil and for gasoline

Several 48 foot van trailers and flat bed trailers for the intermittent needs of our customers
A Focus on Making Sure Your Customers are Satisfied
Best Fit: Any company that wants to serve many customers from one location.
In order to provide your customers the on-time performance necessary for you to retain your customers, we focus our model on providing tank truck services that are so reliable you don't need a backup carrier. Some hallmarks of our model are
Tank truck services tailored for your specific operations
All Drivers are employees practicing values of customer service, honesty and dependability – they will be good ambassadors for your company
More than sufficient equipment with redundancy to avoid shortfalls
Accessibility to a person at our logistics center 24 hours a day, 7 days a week
Call us today (434-572-1100) to learn more about tank truck services for your customers.