The Best Tanker Truck Safety Record
Simply put – you'll get logistics services from a tank trailer trucking company with a track-record of extraordinary safety.  Execution of safety procedures is used throughout the Company to achieve precision in everything we do, and this results in on-time performance for your customers.
History of Safety Awards and Recognition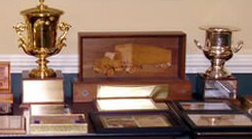 Raffles Insurance Ltd. – R. O. Harrell is one of only two companies in the US to achieve the highest safety award 3 times by Raffles – the largest heterogeneous captive insurance company in the US.
American Trucking Association – 1st Place Safe Fleet Award in the Tank Truck category
National Tank Truck Carriers – A number of 1st, 2nd and 3rd Place Awards for overall safety and personnel safety for Tank Truck carriers in the 5-8 million mile class
Virginia Trucking Association – Best Overall Safety Record among Tank Truck bulk carriers with over 3 million miles for 5 of the past 6 years.
What We Do to Ensure Your Loads Arrives Safely
Every driver has a hazardous materials endorsement on his CDL
Most drivers have TWIC (Transport Workers Identification Credentials) issued by TSA
Frequent safety awareness meetings and incentive compensation for high performance
Skilled, experienced mechanics who ensure vehicles in top operating condition
Top quality tractors and tank trailers, the newest ones including

electronic stability control braking systems
automatic transmissions
collision warning systems with Smart Cruise
lane departure warning systems
auxiliary power units.
Call us today (434-572-1100) to learn more about how our tanker trailer fleet can achieve your on-time delivery requirements.