On-Time Tank Truck Services
In this just-in-time world of demanding customers, getting your materials on-time is critical to customer retention and that's how we customize your tank truck logistics services. Whether you need tank truck assets at your facilities, loaded inventory at ours or the customer's facility, you'll get a solution that achieves your delivery goals.
Our largest customer, who tracks on-time performance as closely as their financials, boasts 99% on-time, error free deliveries for loads that travel every day for distances up to 2000 miles.
Some Examples of How We've Delivered
Exceptional On-Time Performance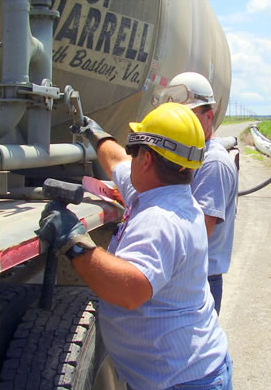 Example: A supplier of special sand blasting sand had experienced poor service to a Midwest location. We developed a specialized dry bulk tank truck logistics program that included a practice of pre-loading the sand to one of our terminals so there would be no delay in the Midwest deliveries. Every load has been on time.
Example: A dry bulk materials producer sought a more cost effective method of getting their products to their customers.  We developed a trans-loading site equipped with shelters, buildings and truck scales.  This site has grown to several products for the initial customer plus different commodities for other customers.
Tank Truck and Inventory Placement are the Key Ingredients to On-Time Delivery
Providing the appropriate tank truck equipment at the right location and the right time is one of the keys to our on-time success.  Sometimes it is appropriate to store the equipment at a customer's location and other times there is a midway point that drives on-time reliability.  Then there are times when loaded tank trailers are situated at a facility.  In any case, you'll get creative solutions and the right equipment at the right place to achieve your on-time delivery requirements.
We have three shifts of mechanics 5 days a week at a modern facility and have mechanics on-call 7 days a week to ensure our tank trailer fleet is ready, reliable and capable of moving your products to your customers on time.
Call us today (434-572-1100) to learn more about how we can develop a creative solution to achieve your on-time delivery requirements.